Signed, Sealed, Delivered: What Happens Post Loan Doc Signing
May 3, 2019 / Escrow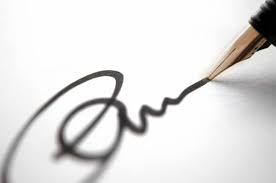 Purchasing a new home is an exciting time, but one that is extremely busy and can be quite overwhelming to even the most seasoned buyer. As you move through the process, checking off milestones along the way, signing loan documents is usually a good sign that the end is near! But what happens when your loan documents are signed, sealed and delivered to escrow?
Once your loan documents are received, you are one-step closer to holding the keys to your new home! But there are some common misconceptions. Some buyers assume that their closing date occurs immediately following signing their loan documents, which isn't always the case.
In order for a home to close and be recorded, a list of specific things must take place. This includes verifications by escrow, and sometimes, the loan funding process can take several days depending on your lender.
For a clearer picture of what happens post loan doc signing, let's take a look at some of the important steps that escrow will accomplish. You will notice that this is not a short list, but all of these steps are integral in closing your transaction and getting you into your new home.
Once the loan is approved, but prior to loan document conditions being received and approved by the Lender, the Lender prepares the loan documents and sends them to escrow for signing.

Escrow reviews these loan documents to comply with the Lender's requirements. They also review the file for any outstanding conditions.

Escrow prepares the buyer's estimated HUD1/closing statement and collects any required paperwork that requires the buyer's signature. Escrow then makes arrangements for signatures on these papers.

Escrow prepares the seller's estimated HUD1/closing statement and collects any required paperwork needing seller signature. Escrow then makes arrangements for signatures on these papers.

There are some instances when the Lender might possess documents that also require signatures from the listing agent, selling agent or loan agent. If that's the case, escrow makes arrangements for these items to be signed.

If still pending, escrow orders insurance, closing protection letter and anything else that is required by the lender.

When the buyer's loan documents have been signed and/or given back to escrow, escrow then packages these documents to be returned to the funding Lender.

This is referred to as the loan package. Ideally, by this time, any documents that required signatures from any party involved in the transaction have been signed and returned to escrow to include in this package.

Lenders all work differently. Some might be prepared to fund the loan when they receive the loan package, while others may require 24-72 hours after the loan package is received to review the package. This gives them time to advise if there are any additional requirements/conditions to fund the loan (this is the most common scenario we run across on the West coast).

Buyers are advised to understand the time frame associated with funding the loan from the lender that they are working with. This time frame is something that escrow does not control.

At this point, the escrow company will request funds from the lender.

An important note: although the loan package has been completed and received by the lender, there may be other issues/conditions related to the transaction (for example, outstanding termite repairs) that will hold up the request of loan funding from escrow.

Essentially, the escrow company has to be in a position to close escrow. This means that all conditions of the escrow have been met and all of the closing funds from the buyer have been received.
As you can see, closing escrow is so much more than just the ink drying on the loan documents! There are quite a few steps involved that must take place between the lender and escrow company before your escrow can officially close.
Working closely with your lender throughout the process will help keep everything streamlined, especially if there are any conditions that need to be cleared by your lender.
Whether you're a buyer or a seller, the real estate process is a time-sensitive one. So it pays to maintain a great relationship with your real estate agent, lender and escrow officer to make sure that everything is moving along as it should.
All lenders work differently, so be sure to ask clarifying questions along the way and provide them with anything they may need to wrap up your transaction.
---
To learn more about the escrow process, please reach out to our expert team of escrow officers! We are happy to assist you or answer any questions that you may have.